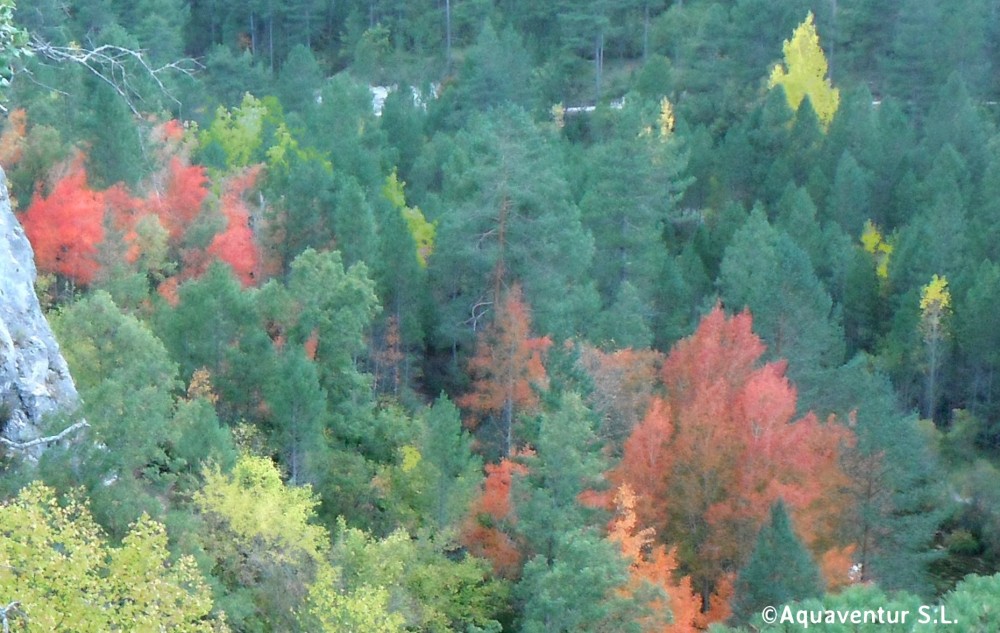 List of recommended activities
Ethnological routes: Ancient buildings lost in the forest. Chozones sabineros and parideras (ancient buildings used by shepherds). The legends of Taravilla's surroundings mix with important historical events. We'll relieve them in situ. Ancient paths used for the transhumance and forgotten valleys used by armies.
Interpretive route of the natural environment: focused on the main vegetals, flowers, animals and geological formations. We'll visit the great rocks, the forest and the river: from the habitat of the griffon vulture (over the limestone canyons) until the otters territory (in the leafy forest in the inner part of the valley).
Gancheros route: This activity focuses on the most important zones of the río Tajo used by gancheros to navigate through the river and transport the wood to its destination.
Approximate duration: 3 hours and a half (although it is usually longer)
Adventure sports
Speleology: Due to the weather of this season (with rain and cold), this activity is one of the best ones to practice in Autumn.
4x4 routes:
This is one of our most demanded activities in Autumn.
Prices:
4x4 ecoutourism for 4,       200 €  (whole day)            115 € (half day)
4x4 ecoutourism for 6,            220 € (whole day)             130 € (half day)
You can practice these activities near Madrid. You'll be surprised.
In this season (if there's been enough rains) mycology courses are a very interesting activity: our experts will teach you how to find, distinguish and cook the murshooms that grow up in this region.
The minimum participants for these activities are 6.