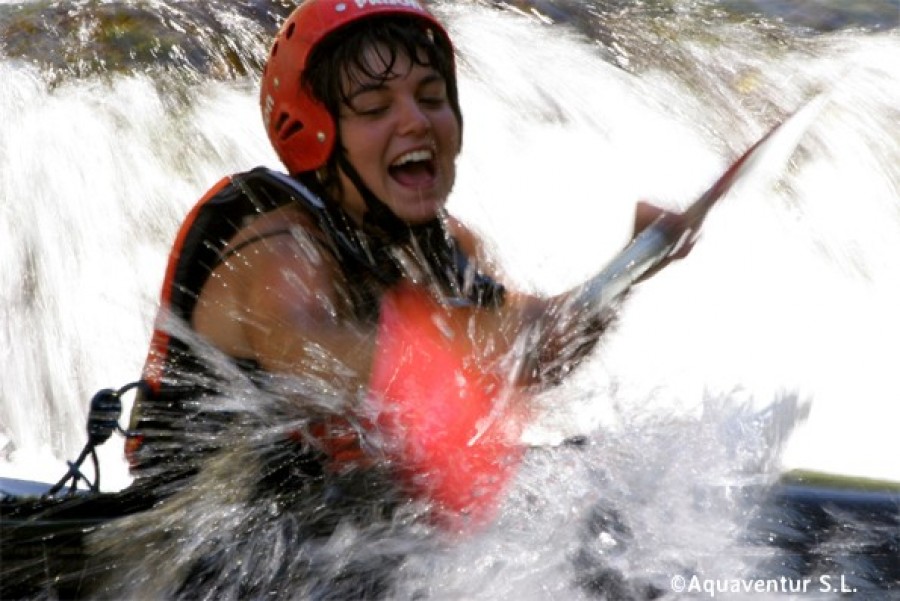 Kayaking, whitewater advanced initiation level
Whitewater initiation area. 

For this activity we use individual kayaks, that are the perfect boats for this area of the river where we can find many rapids.
You don't need any previous kayak knowledge but it's important that you have a good equilibrium and that you can swim.
Our instructors will guide you through the activity and they will teach you any knowledge needed to practice kayak. 
More or less halfway there is a stop for lunch.
This is a whole day activity.
Equipement: We provide all the equipement. (Helmet, life jacket, footwear, paddle, canoe/kayak and, if needed, wetsuit and raincoat)
Picnic included
We recommend to bring: swimsuit, towel and sunscreen.
 Minimum recommended aged: 12 years old
* You can practice this activity near Madrid
* If you are near Albarracín and/or Sierra de Albarracín, Alto Tajo Natural Park is the perfect location to practice white water kayak. Also for those visiting Cuenca that want to enjoy some rapids in a close and wonderful area.
 Off-season: groups of at least 6 people.
Peak season: No minimum people required.
* ask for our group discounts (we have discounts for group of at least 6)
We have special discounts for groups of at least 20 people. Contact us for a personalized quote
* You can experience this activity from 47 €!!!
Price
60 €
Mininmum participants
-
Minimum required age
12
Price per participant