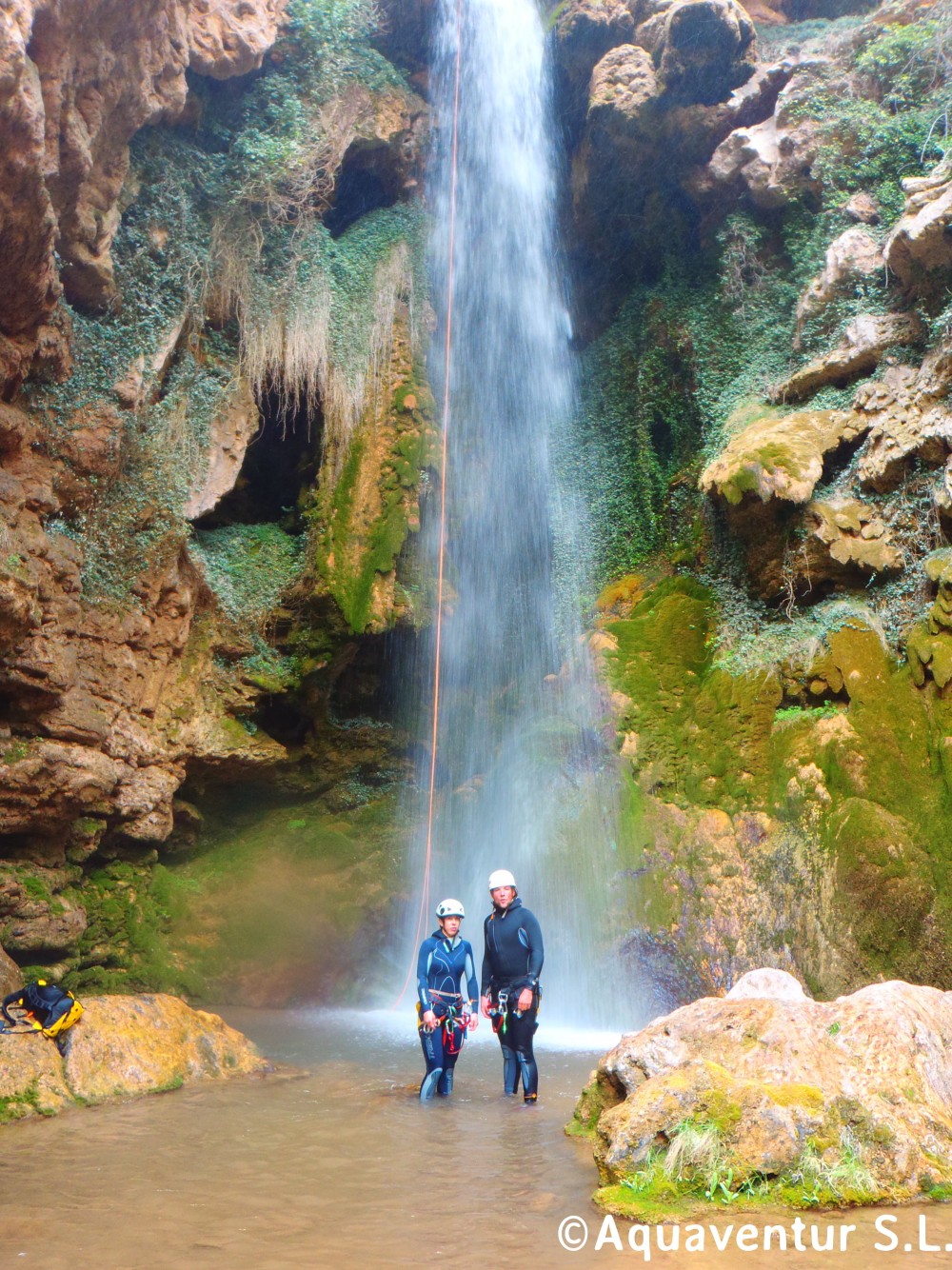 Aquatic canyoning: Level 3 - Cuenca and Teruel -
* Poyato's canyon (Arroyo de la Dehesa).
Located in Poyatos (Cuenca)
Slope 200m. Length: 2,5 Km.
Aquatic canyon. This canyon is very narrow in its first part and in the middle part there's a wonderful panoramic view. Here we can practice climbing, swimming and jumping. This canyon has 6 rappel zones (the longest one is a 22 m rappel) and many descent areas.
Best seasons for this activity: Spring and Summer. Contact us if you want to do it during autumn.
* La Hoz Somera (Santa Cristina)
Located in Carrascosa (Cuenca)
With a slope of approx. 374 m. It takes approx 5 hours. Its longest rappel has 16 m.
The best seasons for this activity are Spring and Summer.
* Los Amanaderos's canyon (Pico de Javalambre)
Also named: Rambla de Amanaderos located in Riodeva (Teruel) Sierra de Javalambre.
260 m of slope. Length: 2,5 km. The longest rappel measures 48 m. Type of rock: This canyon is composed by sandstone, limestone and tufa. The form of the canyon makes the river level stable all along the year. In winter this location can be frozen.
Recommended season: Spring, Summer and Autumn
For this activity in any of those canyons there must be a group of at least 6 or 8 people. Please, contact us for groups and availability.
We have special prices for groups of at least 6 people.
We have special discounts for larger groups.
* You can experience this activity from 44 €!!!
Price
50 €
Mininmum participants
6
Minimum required age
14
Price per participant