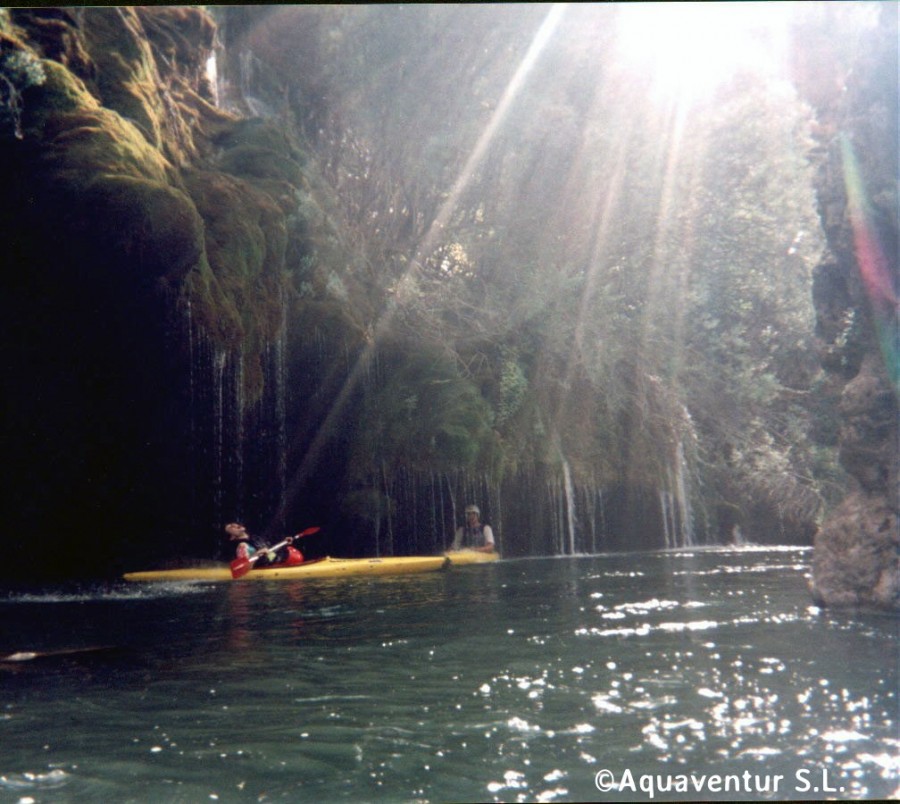 Whitewater diving in Alto Tajo
This is the most intense experience you can practice in a river. This activity is a mix between kayaking level 3 and snorkeling or diving baptism. Don't lose the opportunity to whitewater diving and watch a waterfall under water. Thanks to our wide experience of more than 10 years working in this river, we can offer this unforgettable activity so that our clients can enjoy it safely.
The rapids (with the river foam) and the calm zones of the river Tajo (that shows us the subaquatic flora and fauna along with the limestone rock formations) are combined in this unique activity.
Thanks to its quality, originality and beauty, this activity was awarded with the Fitur Active Price for Best Adventure Tourism Product
Equipement: This activity includes the material and the guide.
Price:
 45 € Level 1. (Minimum recommended age: 8 years old)
 50 € Level 2 (Minimum recommended age: 8 years old)
 60 € Level 3 (Minimum recommended age: 12 years old)
Requirements: To know how to swim.
Season: From June to September.
 Ask for our group discounts!
You must be at least 6 people to be considered a group.
There are special discounts for groups up to 20 people.
Ask us for a budget!
You can experience this activity from 32 €!!!
Price
- €
Mininmum participants
-
Minimum required age
-
Price per participant