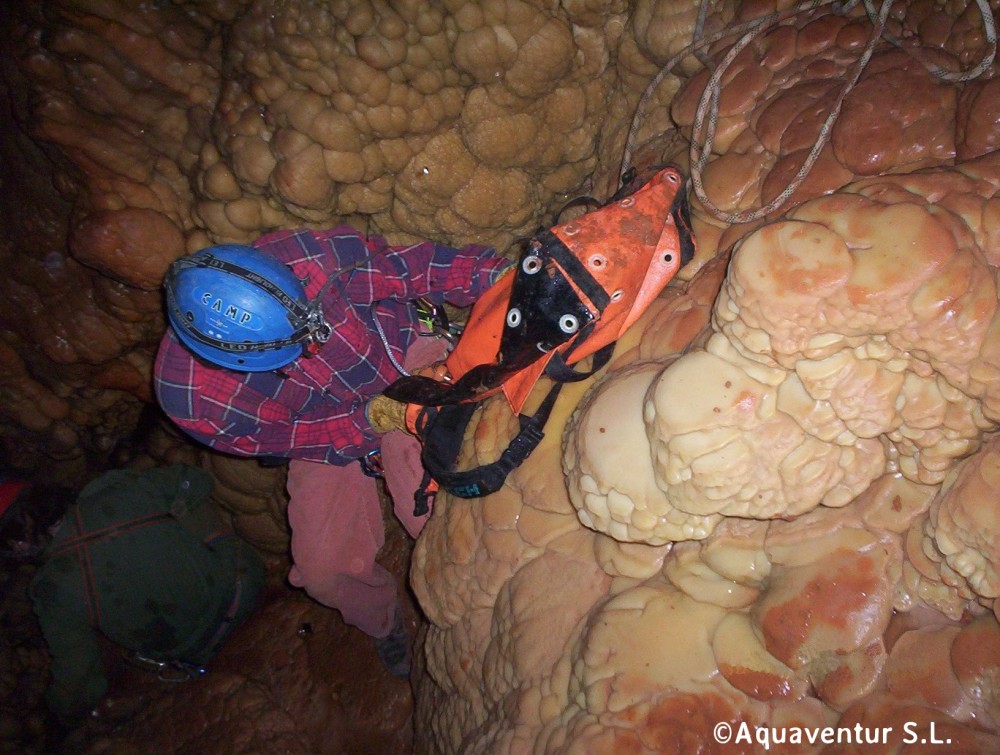 Speleology: Central zone - Alto Tajo Natural Park
Caves allow us to notice nature through a different and misterious point of view.
In this activity, you'll learn some theory about the speleology needed to practice speleology and how to use it along with information about speleology itself. The visit, that starts after the theory, will allow us to submerge in this wonderful world of speleology and caves. Those activities last the whole day.
We work in two caves, with little difficulty, that are the perfect location to enjoy speleology in all its splendour.
La Hoya del Castillo: (Alto Tajo Natural Park)
Located in the area of Muela del Conde - Taravilla's lake - Salto de Poveda, this is the perfect cave to start in speleology: it's an easy cave that has different speleothems and an aquatic passage.

 Tornero's cave: Checa (Alto Tajo Natural Park)
It lengths 11 km (approx.) And it's divided in two sectors:
- North sector (longer area) with many meanders.
- East sector: composed by by galleries, mostly inactive ones, and a labyrinth that conects with the North sector.
Equipement: This activity includes all the material needed (speleology overalls, head torches, etc.), instructor, and accident and liability insurances.
 Near Madrid you can find all these caves where you can practice spelelogy while you discover the wonderful limestones of Alto Tajo's georpark, located in Tajo's valley.
Ask for our group discounts!
You must be at least 6 people to be considered a group.
There are special discounts for groups of at least 20 people.
Ask us for a budget!
* You can experience this activity from 34 €!!!
Price
45 €
Mininmum participants
6
Minimum required age
14
Price per participant