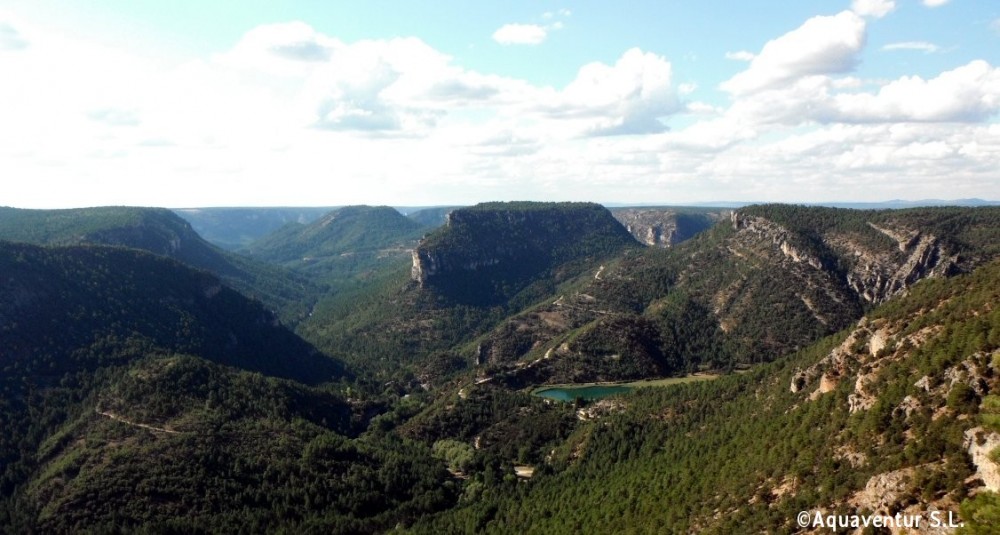 Hiking, nature and ethnology. Guided routes
We adapt our activities to the participants. We offer different guided routes  in some of the most beautiful locations inParque Natural del Alto Tajo, Sierra de Albarracín,  Serranía de Cuenca and other areas of the Sistema Ibérico.
Take a look at the photo galery and choose where do you want to live this experience. We have 4x4 vehicules that can be used for the logistics or to reach the start point of the route.
During the activity we'll show and explain the main plants and animals of the ecosystem. Also the geology and the past and present traditions of the inhabitants of this area. And the most important historical events, local legends, etc.
The most viewed animals in this routes are: vultures, deers, roe deers or fallow deers and many different birds (blackbirds, kingfisher, great tits, ducks, robins...)
In Autumn we visit mushroom growing areas and we can also hear the deer stag bellowing when the sun is setting.
We understand hiking routes as activities that can be used to enjoy and learn about nature at the same time, therefore, our routes change all along the year according to seasons. (In Autumn we focus on mushrooms, in Summer we'll visit some swimming areas and Spring is the main season for waterfalls).
Other hiking options:
- Orientation: Intuitive. Noctural orientation. Maps and compass. GPS software.
- Integration in nature: swimming areas, relax in the water, night in nature, survival experience.
The price is for small groups. To add an instructor or book a vehicule, please contact us.
Low and peak season: groups of at least 8. 
Ask for our group discounts!
You must be at least 6 people to be considered a group.
There are special discounts for groups of at least 20 people.
ASK US FOR A BUDGET!

* You can experience this activity from 8 €!!!
* The minimum amount of people per group are the amoun of people we need to assign a monitor for the activity.